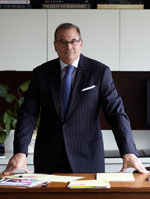 Case Study
Arsenal Capital Defines Company Messaging Through Executive Training
The Situation:
"We needed an outsider to hear how we communicated our company's core values and help us streamline our brand to be powerfully effective," says Terry Mullen of Arsenal Capital.
Steve immediately noticed Arsenal's message was too complex. It needed to be distilled down to the point where it could be easily understood, and it needed to be flexible enough to address diverse audiences. Steve rigorously studied Arsenal's industry, finding areas where the company's messaging and the market needs were at odds. He then worked with four top-level executives, tailoring programs to fit the company's messaging needs and the skill sets of each individual.
The result:
Arsenal Capital now has consistent and concise messaging that can be tailored to any audience. Steve Giglio was able to pinpoint the company's value proposition and the unique services offered. He created a communication standard that ensures an accurate presentation of the company to investors. The changes he initiated are now used for all communications efforts.
ALSO SEE:
Return on Executive Investment
Superior Team Management
Increased confidence and peace of mind
https://giglioco.com/wp-content/uploads/2009/06/0796.jpg
199
150
Steve Giglio
https://giglioco.com/wp-content/uploads/2023/03/giglio-co-logo-300x138.png
Steve Giglio
2009-06-02 20:23:08
2009-06-02 20:23:08
Arsenal Capital ED Case Study