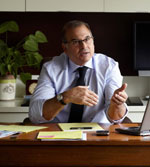 Recently, a client lamented that he and his firm lost a multi-million dollar order. The CEO, who had not been involved in the process, stopped the expected transaction…after my client had invested a year's worth of relationship building with the two execs that reported to the CEO. Hence the phrase; no client left behind!
I felt terrible for my client when I heard the news. As we deconstructed the crime, we realized there were THREE other executives who factored into the decision making process that were not met with, let alone tucked in. We've all heard and respected the phrase, "Selling starts at 'No.'" My client didn't get a chance to hear "No" from many decision makes until it was too late. A great client once said to me "In business, it's always good to be a little paranoid." He's not wrong. In fact, this needs to be an operating principle.
The Money Guy Does The Talking
When you operate from the idea that something can always go wrong, you naturally understand it's mission critical to determine early on in the process who the decision makers are who will factor into choosing, or not, your product or service. As I explain in the video below, it's paramount not only to know who these people are but, to meet with them separately. Otherwise, you'll only hear from the person in the room who makes the most money!
Do not only meet with people in a group. As you meet/vet each decision maker,  you will uncover what's core to them relative to your recommendation. This will move you closer to a "Yes" and further away from the "No." The executive will start to get a feeling that their individual wants and goals are being considered, giving them a vested interest in the outcome…not just a group mentality.
Understand Everyone's Barriers
Many years ago, my first sales manager, Nick, once said to me "You've got five minutes to understand what the barriers are to your recommendation…and it's the first five minutes." That's a little too abrupt, but he was correct in that as you initiate relationships with these four to six decision makers, you must understand what barriers could block you early on in the process. As Nick also said, "If you get the objection when you're closing, it's too late." Give yourself a chance early to discover roadblocks and determine how to resolve them.
You've got to endear yourself first, then your recommendation, to each decision maker. You will do that by listening first, selling second.  The deeper you understand what's important to each decision maker the clearer you'll be in how to communicate and compel them.
Ever get blind-sided by a "silent" decision maker…the person you never knew about who holds the strings? Tell me about it in the comments. – SG
https://giglioco.com/wp-content/uploads/2009/06/0301.jpg
167
150
Steve Giglio
https://giglioco.com/wp-content/uploads/2023/03/giglio-co-logo-300x138.png
Steve Giglio
2016-05-18 15:02:41
2016-05-20 16:31:00
Barriers to Achieving Objectives, aka No Client Left Behind