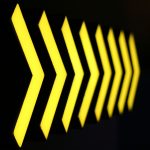 Solution.
Problem.
Motivation.
Many times, I see people frame their "ask" of clients in this order. Right out of the gate, they speak about a great service or product they've come to discuss. They move next to saying that the solution will fix a problem the client has. And lastly, they will relate that solution to something they believe will motivate the client to say, "Yes…I'm in."
This is all backwards, as a client of mine found out recently.
He asked me for some help in framing an "ask." He was worried his client would take it as a condemnation of how things were being handle by him, and his team. He knew he had a good solution but, it would involve a new process that dealt with a serious shortcoming. Product….then solution.
The issue here is that you are telling a client they are doing something wrong or, they are wrong for not knowing something could be done better. That's not a strong motivator for anyone. And there's the key focus…motivation. That's really what you are there to do, right? Persuade your audience so that they are motivated to accept your solution?
In business we're often pressed to produce a result or fix an issue with no time to design our "ask." Try asking yourself, "What's the motivator for the person I'm presenting my ask?"
Here's a hint, 9 out of 10 times their motivator is NOT yours.
By declaring your "ask" too frequently you risk getting the reputation of "its his/her way or the highway/she's difficult to work with", or worse "she's quite selfish"…etc.
Its better to to pause/think and ask yourself, what's the motivator for my listener?
I did this with my client and he suddenly had a revelation…by instituting the process he was recommending, his client's head of sales would actually sell more product at the best margin. "That's how you initiate the conversation," I said to him. And we crafted his ask by starting with, "I've got an idea on how to increase sales with the best margin." Now they are on the same wavelength.
Try re-ordering your next presentation with motivation as the lead. Let me know how your communication goes!
https://giglioco.com/wp-content/uploads/2017/03/yellow-arrows-1160594-640x640.jpg
640
640
Steve Giglio
https://giglioco.com/wp-content/uploads/2023/03/giglio-co-logo-300x138.png
Steve Giglio
2017-03-31 03:59:01
2017-03-31 03:59:01
Find Your Client's Motivation First, Not Yours