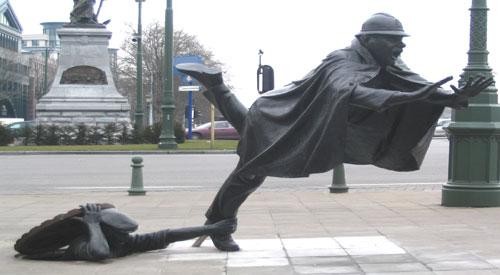 No matter your role, be it a salesperson, account director, or VP of client relations…you are an extension of your client. You perform a role that is critical to the client's success. The client is, in essence, your constituent. You have the responsibility to support them, guide them, serve them, and meet their needs by meeting your obligations.
This support means keeping clients informed on any issue and any situation that may need their attention…before it's too late. Keeping that information from them or, not being aware of it yourself, risks your client being embarrassed in meetings with their teams, superiors, board members, etc. Don't let that happen!
Avoid Distractions, No Matter How New
Too often, people get distracted with other clients or new opportunities. However, if you can't keep track of your original client, what is the point of moving on to others? With pressure to "always be closing," you might think your role is to keep cranking out new business. But business development is only part of it. A critical element to your job is to attract new business by being a worthy steward to your existing client base. So many times I've seen people so distracted, they forget this critical role.
Keep Your Client, and Yourself, on Track
It's your job to stay ahead of your clients' issues so that they aren't surprised by anything. You must keep impeccable records of your conversations with them and follow up on all outstanding issues. If they come to you for a status update, you've failed them. You have to keep them aware of issues before something that could backfire on them happens. It's up to you to know when to update your client and give them timely intel that can help them with their job and responsibilities.
Always Look Ahead
You are the eyes and ears of the business relationship. Recently when I noticed a client's sales team working on autopilot in their presentations, it was up to me to deliver this assessment to my client. He didn't like hearing it, however, not doing so would have left him vulnerable to lackluster results that he would have had to report to his management team. If you've been in that scenario, you know how terribly uncomfortable that can be. I had to think ahead and see the train coming down the track so my client could get out of the way!
These sort of advance warnings avoid ill feelings and embarrassing situations for you and the client. They also establish you as a problem solver, not a problem creator. That's quite a thing to be for a client! The flip side is that you risk your client being hurt professionally and after that, it can take months or even years for you to regain their trust since "you should have said something." Always be aware of that and strive to avoid it.
How often do you update your clients? Let me know in the comments below. -sg
https://giglioco.com/wp-content/uploads/2018/05/Statue_tripping.jpg
275
500
Steve Giglio
https://giglioco.com/wp-content/uploads/2023/03/giglio-co-logo-300x138.png
Steve Giglio
2018-05-08 00:07:36
2018-05-08 00:07:36
Don't Let Your Client Get Embarrassed